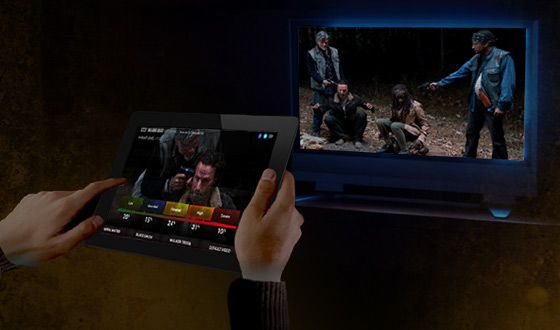 The Walking Dead returns this Sunday at 9/8c, and with it comes the return of Story Sync. This live, interactive experience immerses you in the world of the show, lets you interact with other fans and re-live tense moments during The Walking Dead's premiere broadcast on AMC. See a particularly gruesome kill? Rank it on the "Gore Gauge." Is Terminus the greatest threat yet to the survivors? Weigh in with Sync's "Threat Level Meter."
This Season, Story Sync is introducing all new features, including a results page that gauges your answers, telling you which character you're most like and whether you would have survived the episode; and "Watch Together," your chance to play Story Sync with a celebrity guest and see how their answers correspond with your own. Check out Story Sync this Sun., Oct. 12 at 9/8c during The Walking Dead Season 5 Premiere, "No Sanctuary." Simply log on to thewalkingdeadstorysync.com via your tablet, smart phone or Internet browser — or download the Windows 8 The Walking Dead Story Sync app — when you tune in to AMC for the broadcast. The rest will take care of itself.
Click here for The Walking Dead Story Sync.
Having trouble? Make sure that…
• Javascript is enabled on your Internet browser
• Your Internet browser is up to date (Sync will not work in Internet Explorer 6-9)
• You have a strong Internet connection
• Your computer clock is set to the correct time zone
• Your mobile device is not set to private browsing