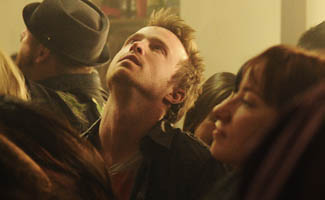 This week, Aaron Paul is playing Luke Skywalker in a live performance of The Empire Strikes Back, while Paul and RJ Mitte talk about their Breaking Bad experiences. Plus, Entertainment Weekly has the Sons of Liberty trailer which features Dean Norris. Read on for more:
• According to Entertainment Weekly, Aaron Paul has been tapped by Jason Reitman to play Luke Skywalker in the director's live read of The Empire Strikes Back (which will be presented on Dec. 18 in Los Angeles).
• Aaron Paul tells Moviefone that Breaking Bad was "the greatest experience in my career for sure hands down" and that Bryan Cranston is one of his best friends.
• Daily Express interviews Aaron Paul, who says, "I'm still mourning the loss of Breaking Bad, and that excitement of getting the new script every week and wondering if I'd get to live or die."
Continue reading "Aaron Paul to Voice Luke Skywalker; Paul, RJ Mitte Discuss Bad Experiences" »