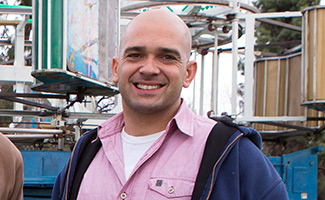 Owner's Manual host Ed Sanders discusses his behind-the-scenes experiences building and operating a carnival ride.
The bright lights, the smell of fried food and the crazy rides can only mean one thing: No, not Friday night at Marcus's house — I'm talking about the carnival!!! (Or, as we call it in London, the funfair!)
I've lost count of how many times I've been to the carnival. I love the carnival. (Except the rides that really just make you want to hurl, which is pretty much all of them!) Maybe it's been the fried food I've been enjoying all of these years. There's nothing better than something — could be anything — covered in batter and then deep-fried. Am I right, or am I right?
Unfortunately for me, this trip to the carnival wasn't going to be like any of the previous times, because me and old sweet-cheeks were going to be setting up a ride. Not just any ride, but a bloody big throw-your‐guts‐up, scare‐the-living-daylights-outta-ya ride!
Continue reading "Owner's Manual Host Blog – Ed Sanders on the Carnival" »